Krones Ltd
Westregen House, Westhoughton, UK
2018-2019
The aim of the project is rethink the internal distribution of the offices that are now obsolete and impractical for a future development of the company headquarters.  In addition to office areas in the project are involved also the areas adjacent such as training, relaxation areas and lunch areas. The project involved especially the central building (which is spread over one level), and the side building (developed on two floors).
The external areas have been studied too to create outdoor spaces covered in part which give the possibility to be enjoied also during the rainy days.
The distribution of the interior space has been designed to create bright environments and spaces that could favor the fluidity of their perception. The treatment of the walls and the use of glass as an element of internal partitions, has allowed to obtain a final result of great effect. The fundamental objective of the project is to create a comfortable working environment. In addition to furnishing study, which aims with some very unusual choices, the proposal provide to an artistic path with several contemporary sculptures.
The entire construction management and interior furnishings were carried out by the contract company Brown & Bancroft Interior Ltd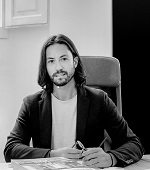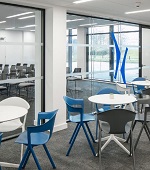 Press
architect@dariocipelletti.it